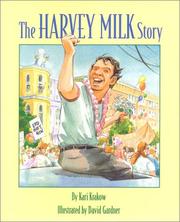 Steve Jobs -
Walter Issacson's biography of the late, great inventor - has been at the top of book-selling charts for weeks. Other great biographies documenting the lives of Michelle Obama, Laura Hillenbrand, Keith Richards, Harvey Milk, and Mickey Mantle can be found at any local library or book store. Of the leaders listed above, however, only Harvey Milk's story is available in the form of a children's biography. Not only that, Milk's story is one of the rare LGBT biographies available for children.
Teacher Dana Rudolph wanted her third graders to read about Frank Kameny, one of the founding fathers of the gay rights movement, before the class went to a memorial service near the U.S. Capitol this year. But there is no kid's biography available for Kameny, or any other leader in the movement. Rudolph writes in
Bay Windows
that she is disappointed for two important reasons - historical and practical.
One: "Because children deserve to know about all of the major civil rights movements of our time," Rudulph says. "They deserve to learn, when relevant, if and how people's significant relationships and struggles against inequality impacted their lives, no matter what the reason for their fame." Teachers have the desire to educate their students about major historical events, and need the resources to do so.
Two: "For young people who are LGBT or questioning, or who have LGBT parents, it is important to see LGBT people achieving in many areas of life." How can teachers tell kids to believe in their dreams when information about LGBT role models and their accomplishments are not readily available? More than that, teaching students of every sexual orientation provides awareness, knowledge, and, ultimately, acceptance.
In 2009, the
National School Climate Survey
found that students in schools with queer-friendly curricula were "less likely to report hearing homophobic remarks or negative comments about gender expression, and less likely to feel unsafe or experience victimization because of their sexual orientation and gender expression." Knowledge is power, and students who learn about the diversity of religions, ethnicities, backgrounds, and sexualities are more likely to accept others as different.
After all, that's why California now requires gay history lessons in schools. As of July 2011, all California schools will begin incorporating lessons about LGBT historical figures and events, and will continue to do so from here on out. New textbooks are being printed across the state to include information about crucial queer milestones. Besides the obvious need for inclusive knowledge, the
New York Times
also notes the law was promoted in big part "to combat bullying of gay and lesbian students."
"There is an increasing awareness in the public and among elected officials that we have to do something to address the problems of bullying, and the negative consequences" for queer students," says director of the Gay-Straight Alliance Network, Carolyn Laub. While some politicians like Republican assemblyman, Tim Donelly, oppose the idea, the widespread response has been positive and hopeful.
"This is definitely a step forward," says
Mark Leno
, California's first openly gay male state senator. "We are failing our students when we don't teach them about the broad diversity of human experience."
But as
Rudolph
points out, this new curricula would be much simpler in the younger grades if LGBT biographies for children were made available. She urges publishers - both independent houses and big time distributors like Scholastic (who have printed queer fiction in the past) - to embrace the demand. "We may not have won full LGBT equality yet," Rudolph says, "but we have had many wins along the way. It is time that we start to write LGBT history -- for all ages -- and pass on some of those victories to the next generation."